University staff on strike against the attack on their pensions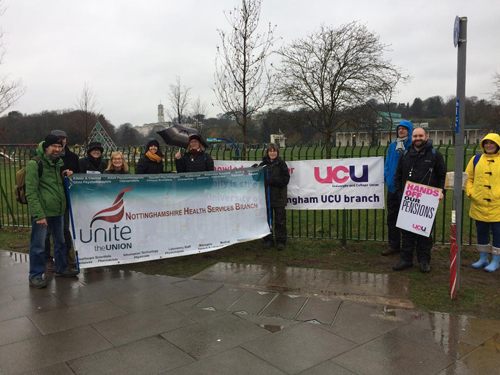 University staff on strike against the attack on their pensions were joined on the picket line by Unite Nottinghamshire Health Branch secretary, Jon Dale. Giving solidarity greetings from NHS workers, Jon told the UCU members that if university employers were successful in changing their scheme from defined benefit to defined contribution - potentially costing workers tens of thousands of pounds through their retirement - other public sector pension schemes could be attacked too.
Universities have become increasingly commercialised, charging students massive fees, putting staff on temporary and zero-hour contracts, cutting staff numbers and down-banding. Meanwhile vice-chancellors and senior management award themselves huge salaries! There are obvious similarities with NHS cuts and privatisation.
We all need to stand together to fight for decent pay and pensions and and defend public services. Unite Nottinghamshire Health Branch has donated £250 to the UCU strike fund.
Jon Dale
Public Protest outside Kings Mill Hospital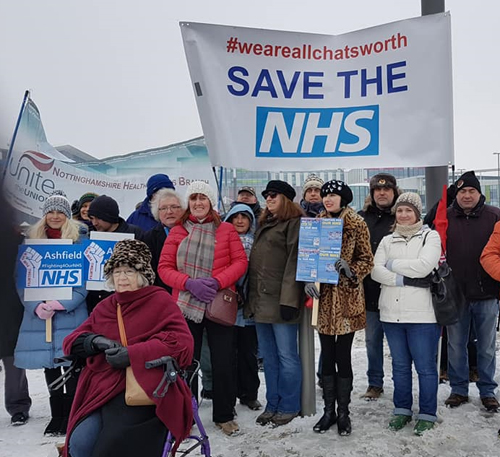 Despite a bitterly cold day, around 40 people protested outside Kings Mill Hospital on 3rd March 2018 to protect the NHS against unprecedented cutbacks and privatisation threats. Unite Nottinghamshire Health's Branch secretary, Jon Dale, attended and was quoted in the Mansfield Chad.
Public Meeting: NHS Privatisation - a bitter pill to swallow for Notts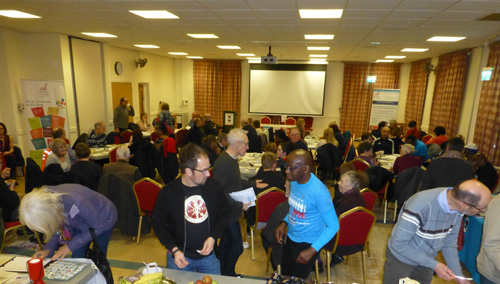 Delegates voiced strong support opposing NHS privatisation
Dr Colin Hutchinson - report by Des Powe
Nottinghamshire being used by government for testing its creeping privatisation plans
A well-attended public meeting organised by your Branch was held on the 1st February 2018, with over 100 members of the public and Unite members in attendance.
Government's proposals to test new and possibly illegal privatisation plans in Nottinghamshire were laid bare at a public meeting organised by Unite Nottinghamshire Health Branch, 1st February 2018. Speaking to a capacity and determined audience at The Mechanics, Nottingham, Dr Colin Hutchinson explained the new management Accountable Care Organisations (ACO), for contracting out NHS and social care delivery. ACOs have evolved from Sustainability and Transformation Plans (STPs) whose aim is to integrate health and social service delivery in a single package. Alarmingly, commercial organisations will be allowed to tender to become ACOs.
ACOs will have powers to asset strip NHS property and resources to achieve profits to service shareholder demands
Several major companies including Capita and Centene have shown interest in tendering to become ACOs. Capita is the largest UK provider of private services to the public sector, having received more public funding than any other company. Shares in Capita fell 40% in early February amid fears that they were at risk of following a similar demise as seen with Carillion in January 2018.
Centene is a giant US profit-making corporation that has been hit by big fines in the USA for failing to provide adequate access to doctors to its insurance customers. It was also fined in Valencia, Spain for breaching hospital health and safety regulations, putting laboratory staff at risk.
ACOs are not accountable to the community they serve, but will be influenced by their commercial associates including banks, insurance companies, pension providers and investment companies.
Dr Hutchinson, Professor Stephen Hawking, Professor Allyson Pollock, Professor Sue Richards, and Dr Graham Winyard have collectively just been granted permission by The High Court to hold a Judicial Review to challenge the legitimacy of Jeremy Hunt and NHS England's introduction of ACOs.
Unite Nottinghamshire Health Branch have contributed funds to support this judicial review but more funds are required to meet the expected government counter-challenge.
Donations to this important cause can be made online at: